Birat Gold Cup Football to begin on March 24, 2012
Event Date: 2012-05-24 to 2012-05-24
« Previous Event
|
Next Event »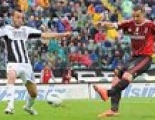 BIRATNAGAR: Birat Gold Cup Football Competition is scheduled to be held in Biratnagar from March 24.
According to Chairman of the Gold Cup Organising Committee, Bhim Kunwar, Nepali national teams, two Indian teams and a team from Bangladesh will participate in the competition.
Earlier, the competition was being organised in the name of Mahendra Gold Cup.
Chief District Officer of Morang Taranath Gautam has pledged to maintain law and order during the matches, and full-fledged support for the success of the tournament.